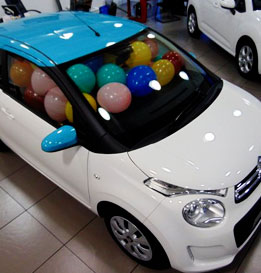 A Queensland shopping centre has fallen foul of punters with their 'Tell us how many Balloons are in this BMW" promotion which asks passersby to guess how many balloons are stuffed inside the prestige car.
The concept is a good one, perfect for a Prize Insurance execution however it came to light after the draw that the final balloon count included those that were out of view, such as the ones in the boot, engine bay and even the glove box.
There are reports that bags of deflated balloons were inside the car and therefore part of the grand total that someone would have to guess in order to win the car.
Prize Insurance premiums are priced on the likelihood of a favourable result, so it stands to reason that the promoter would look at all options to reduce their risk and thereby the cost of purchasing prize insurance cover.
That said, there is a fine line between reducing your risk and running a competition that in reality, nobody has a chance to win.
Tags:
#PrizeInsurance #PrizeInsuranceAustralia
https://prizeinsurance.com.au/wp-content/uploads/2018/08/pilogo-300x78.png
0
0
Admin
https://prizeinsurance.com.au/wp-content/uploads/2018/08/pilogo-300x78.png
Admin
2018-08-20 11:31:09
2018-08-20 11:47:31
Shopping Centre in hot water over Balloons In Car promotion